Illinois' credit score two steps away from junk status
This week, the Pritzker Administration claimed victory after Moody's Investor Services upgraded the state's bond rating by one notch, putting Illinois two steps above a junk-bond rating. The Pritzker administration is hoping Illinoisans don't realize this rating is largely reflective of the massive influx of federal funding over the last year. The state's long-term fiscal outlook is still dire.
As an example, Illinois is still saddled with an unsustainable pension system. Taxpayers are still on the hook for $140 billion in unfunded liabilities for the five state retirement systems, assets for the Chicago pension system are set to run out in six years, and nearly 25 percent of the General Funding in the Fiscal Year 2022 budget goes toward state pension payments. Additionally, rather than displaying fiscal discipline, majority party leaders stuffed the current budget with more than a billion dollars in pork programs and projects.
When the federal money dries up, the people of Illinois will still be stuck with budget structural issues that the Governor and Democratic majorities not only refuse to address, but are unwilling to even acknowledge.
Summer outreach events scheduled for July
I want to thank everyone who came out to my Coffee & Conversation and Conversations Untapped events that were held recently in Marengo and Harvard. We had good crowds at both events, and I enjoyed having casual conversations with constituents. I will be holding more of these events throughout the summer and fall in the 32nd District, so please visit my website www.SenatorWilcox.com to find more information.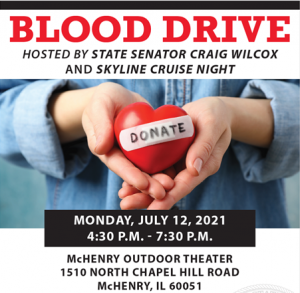 Upcoming events include:
July 12 Blood Drive: in cooperation with Skyline Cruise Night and Versity Blood Center, 4:30 – 7:30 PM, McHenry Outdoor Theatre, 1510 N. Chapel Hill Road, McHenry
July 17 Kayak with the Senator: (participating in the DamYak Challenge)
July 27 End of Session Town Hall Meeting with Senate Republican Leader Dan McConchie and Senator Don DeWitte: 6:30-8:00 PM, Crystal Lake City Hall, 100 W. Woodstock Street, Crystal Lake
IDES fails to report fraud claims ranking among worst in the nation
As COVID-19 restrictions ease in Illinois, the doors of the Illinois Department of Employment Security (IDES) offices remain closed even as fraud claims continue to spike. Most recently, CBS 2 Chicago reported Illinois ranks among the worst in the nation in reporting unemployment fraud to the federal Department of Labor and elected officials.  The lack of transparency raises questions on what's being hidden and how large the scope of the problem is.
More than a month ago, lawmakers overwhelmingly passed a bipartisan resolution calling for the reopening of IDES offices. Four weeks have since passed and no movement has been made on opening the facilities. This situation raises questions on how much money is being siphoned in fraudulent claims and what's taking so long to rectify the problem for fraud victims.
Wilcox hears plans for data center at former Motorola site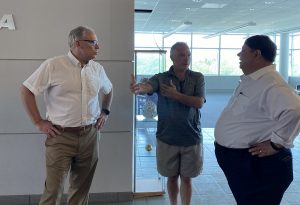 I recently had an opportunity to join other elected officials for a tour of the former Motorola facility in Harvard and learn about the new plans to transform this 1.5 million square foot building into a solar-powered data center. Current plans include a 56-megawatt solar array that will power a data center for corporate and cloud computing. Due to a data center incentive package approved by the General Assembly in 2019, the new developer will be able to enjoy an exemption from state and local sales tax on equipment, provided a $250 million investment is made and at least 20 full-time jobs are created. It was a fascinating tour, and I can't wait to see this building brought back to use. I'm shown in this photo with State Senator Dave Syverson (R-Rockford) and Harvard Mayor Michael Kelly.
What Phase? Another extension on COVID-19 Executive Orders
This year I co-sponsored Senate Bill 103, which would prohibit the Governor from endlessly extending a disaster declaration without approval by the General Assembly. This legislation was never even assigned to a committee this last spring session.
It's been 15 months since the start of the COVID-19 pandemic, and while the state has moved to Phase 5, infection rates are extremely low, and vaccination rates continue to increase, Gov. Pritzker is still extending Executive Orders by issuing disaster proclamations. Since last March, more than 80 Executive Orders have been issued with no input from the General Assembly. Most recently, this week an Executive Order was filed to extend a moratorium on evictions and reissue more than two dozen other Executive Orders.
Senate Republicans have continued to advocate for improved transparency to the Administration's COVID-19 response efforts, and for the Governor to end his unilateral approach and engage the members of the General Assembly in the decision-making process.
Sen. Wilcox presents MCCD with resolution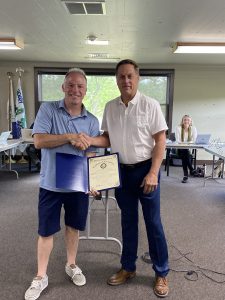 Last week I visited with my friends at the McHenry County Conservation District (MCCD) and presented them with an honorary Senate resolution recognizing their 50th Anniversary. This organization owns or manages over 25,000 acres of open space, and provides wildlife habitat preservation, educational opportunities, and recreational amenities for all residents of the county. MCCD has 35 sites that are open to the public, including 106 miles of hiking trails, 45 miles of biking trails, 25 fishing areas, 36 miles of horse trails, six campgrounds, six canoe launches, multiple picnicking areas. We are very fortunate in this region to have such a wonderful organization protecting our green space.
Five new Republican-sponsored bills signed into law
Throughout the 2021 spring legislative session, Senate Republicans advanced a variety of bills, many of which have recently been signed into law. These new laws cover everything from public safety and education, to government and health, and I was proud to support each of the following Republican-sponsored bills:
Driver's License & ID Card Extensions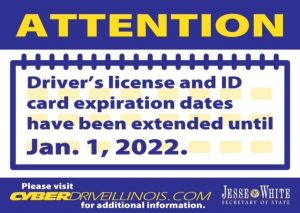 The Illinois Secretary of State's office announced this week a five-month extension on expired driver's licenses and state identification cards. The new deadline will allow expired licenses and ID cards to remain valid until Jan. 1, 2022.
The extension is designed to reduce issues with long lines, which would force people to stand out in the heat due to social distancing rules, which limit the number of people in facilities. The extension does not apply to commercial driver licenses (CDL) and CDL learner permits.
Stay safe this Fourth of July weekend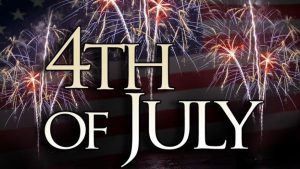 Lastly, many Illinoisans will gather this weekend to celebrate Independence Day on Sunday. For many families, the Fourth of July means barbecues, parades, concerts, and fireworks. As we commemorate the signing of the Declaration of Independence, please use caution at gatherings, especially when fireworks are present.
More than 66 percent of firework-type injuries happen around the July 4th holiday. The U.S. Consumer Product Safety Commission says in order to prevent firework-related injuries and deaths, you should follow these safety tips.
Never allow young children to play with or ignite fireworks.
Always have an adult supervise firework activities, including sparklers. Sparklers burn at about 2,000 degrees, hot enough to melt some metals.
Never place any part of your body directly over a firework device.
Back up to a safe distance immediately after lighting the firework and never try and re-light the firework if it didn't fully ignite.
Keep a bucket of water or garden hose nearby.
Once the firework is done burning, douse the device with water before discarding it.
Make sure fireworks are legal in your area before using them.
The most injured body parts from firework-related injuries are your eyes, head, face, and ears, along with your hands and fingers. Click here to find a listing of public fireworks displays in the area.