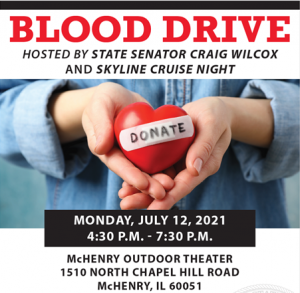 State Senator Craig Wilcox (R-McHenry) is partnering with the McHenry Outdoor Theater and Versiti Blood Centers for a blood drive on Monday, July 12 from 4:30 – 7:30 PM.
The event is taking place alongside Skyline Cruise Night at the McHenry Outdoor Theater, 1510 North Chapel Hill Road, in McHenry, and all who attempt to donate blood will receive a code to redeem for a free general admission ticket for Summerfest. Blood donations from the event will support local communities and veterans' hospitals.
"The need for blood donations is still great, so I'm hoping people will come out to the car show and donate blood while they're there," said Sen. Wilcox. "A free ticket to Summerfest provides additional incentive for participate in the blood drive, and as veteran myself, I'm pleased to know that our efforts will help ensure an adequate blood supply at veterans' hospitals."
While walk-up appointments will be accepted, reservations are encouraged. Those who wish to participate can register at this link.