End of Session Report lands in District 32 Mailboxes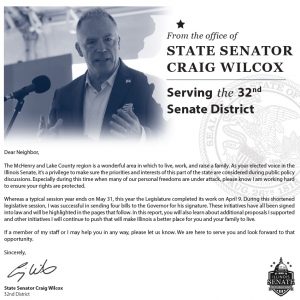 Over the last week or so, my 2022 End of Session Newsletter arrived in mailboxes across the 32nd District. This mailing is sent annually to households in every community I serve. It is not a political mailing. It is a legislative look back at activity from the 2022 session year in Springfield.
My office has received a few phone calls and emails from some who wonder why they received it. As the elected Senator for the 32nd District in McHenry and Lake Counties, I represent everyone who lives here. My office's services are available and are just a phone call or email away. I also always welcome your input and ideas on how we can make Illinois a better place for your family.
If, for whatever reason, you did not receive a copy and would like one, please contact my office at (815) 455-6330 and we will mail one to you.
Illinois' unemployment rate is lagging behind
A new analysis of the nation's jobs report shows that the national average unemployment rate currently sits at 3.5 percent. Meanwhile, Illinois' own unemployment rate is at 4.4 percent, making it tied for the third highest rate in the nation.
While the state did see 31,200 new jobs from mid-June through mid-July, marking 14 consecutive months of job gains, Illinois still hasn't fully recovered from the economic downturn caused by the pandemic as the state is still missing 88,600 pre-COVID jobs.
Additionally, the fact that Illinois still has a $1.8 billion unemployment trust fund deficit raises concerns about how much assistance could be provided to Illinoisans who lose their jobs, and how large of a tax increase small businesses within the state could face.
If that $1.8 billion debt isn't repaid by Nov. 10, the federal government will begin to charge $21 per employee annually on all businesses within the state next year, and businesses will be forced to pay an undetermined higher state tax to fund unemployment programs. It is also likely that future unemployed people will receive reduced unemployment benefits.
Large Turnout for Unclaimed Property Day in Crystal Lake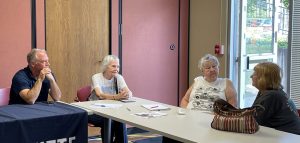 Thank you to everyone who came out to the Unclaimed Property Day event that was held at the Crystal Lake Library last week. Some in attendance were successful in finding property/cash that was waiting to be claimed. The Illinois Treasurer's Office is currently holding more than $3.5 billion in unclaimed items and cash, and I will continue to partner with them to host these types of events in the 32nd District.
On Saturday, my office also hosted a free document shredding event and food collection drive. During the three-hour event in Woodstock on Saturday, we collected hundreds of pounds of documents for shredding, and 312 non-perishable food items that will be donated to local food pantries in the 32nd District. Thank you to everyone who helped replenish the food supply at our pantries!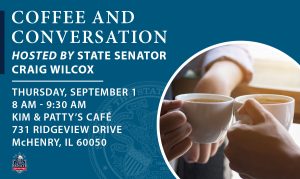 Coming up this week, I will be hosting a Morning Coffee Chat on Thursday, September 1. Join me at Kim & Patty's Café, 731 Ridgeview Dr, McHenry, from 8:00-9:30 AM for a cup of coffee and casual conversation. We'll discuss any issue that is important to you, so come on out and say hello!
Other upcoming events include:
Thursday, September 8 Barks & Brews: This is a joint event with ShadowView Brewing and Helping Paws. Join us at ShadowView Brewing, 2400 Lake Shore Dr, Woodstock from 6:00-8:00 PM. I'll be available for individual and small group conversations about issues that are important to you, and Helping Paws will bring some pets that are available for adoption.
Friday, September 16, Senior Fair: Senator DeWitte and I are co-hosting a free Senior Fair at McHenry County College, 8900 U.S. Route 14, Crystal Lake, from 9:00 AM until 11:00 AM. A variety of local vendors will be on-site to discuss and provide information about several local programs that benefit seniors. There will be free refreshments and health screenings.
Monday, September 19 Online FAFSA Event: If you have a current or future college student, join me for this informational online session to learn about filling out the FAFSA and how students can maximize their opportunities for college assistance, grants, and scholarships. Additional details coming soon.
Veterans Traveling Tribute Wall coming to Harvard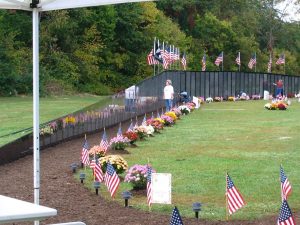 The entire American Veterans Traveling Tribute Wall – all 211 panels of it – is coming to Milky Way Park in Harvard next week from Thursday, September 8 through Sunday, September 11, courtesy of the Harvard Chamber of Commerce & Industry. Please visit www.harvardchamber.com to learn more about this powerful display. They're also looking for volunteers to help – email info@harvcc.net if you're interested in helping.
Fire forces suspension of Household Hazardous Waste Collections
The Illinois Environmental Protection Agency (EPA) has announced that all Household Hazardous Waste (HHW) collection events and locations are temporarily suspended after a fire broke out at an Ohio facility currently used to dispose of the waste.
The announcement means that upcoming fall one-day HHW collection events in Tinley Park, East Moline, Bloomington, Quincy, and Springfield – as well as the long-term HHW disposal facilities in Chicago, Naperville, Lake County, Rockford, and Madison County that Illinois EPA supports – have suspended operations until an alternative incinerator willing to accept Illinois' HHW is identified.
Residents in possession of household hazardous waste like oil-based paints, herbicides, cleaning supplies, and household batteries should keep the materials safely stored in their original manufacturer containers until HHW collections can resume.
The Illinois EPA says it remains committed to rescheduling the one-day HHW collection events once an alternative disposal arrangement is available, or the Ohio facility is operational. The agency is hoping to reschedule these events later this fall or early winter.
For more information on Household Hazardous Waste, please visit https://www2.illinois.gov/epa/topics/waste-management/waste-disposal/household-hazardous-waste/Pages/default.aspx.
Biometric privacy class-action settled for Illinois Snapchat users
A settlement in a class-action lawsuit against Snapchat and its parent company, Snap. Inc., was reached this month for $35 million, and could have Snapchat users in Illinois eligible for a payout between $58 to $117.
The original lawsuit alleged that Snapchat's lenses and filters collected and stored users' biometric information without informed consent, which would violate the state's biometric privacy laws.
Illinois' Biometric Privacy Act (BIPA) prohibits private-sector companies and institutions from collecting biometric data from unsuspecting residents in the state or online. Under Illinois law, that data cannot be sold, transferred, or traded, and citizens are allowed to sue for alleged violations.
Illinois' BIPA is one of the nation's strictest biometric privacy laws and has resulted in several class-action lawsuits against some of the tech industry giants, including Google and Facebook.
Illinois residents who have used lenses or filters on Snapchat since Nov. 17, 2015, which attorneys estimate could be as many as 3.8 million people, may qualify for a piece of the settlement.
Illinois residents who believe they may be eligible have until Nov. 5 to file a claim. You can learn more about the settlement and file a claim here.