Last week, after months of pushback by Republicans about the increasing costs of Illinois' undocumented immigrant healthcare program, the Governor's Administration filed an emergency rule attempting to rein in state spending on the program for non-citizens, which had ballooned to more than $1 billion.
While the new rule temporarily suspends enrollment to the program beginning July 1 for those ages 42-64 and sets co-pay requirements, Illinois has already sent a clear message to undocumented immigrants across the nation and the world that Illinois is the best place to come for free healthcare. I remain extremely concerned about the cost of this program, especially since taxpayers foot almost the entire bill.
Through this program, undocumented residents are receiving best-in-the-nation free healthcare, even better than Illinois residents on Medicaid. Healthcare costs for this population are four times greater than a similar citizen on Medicaid as the program hardly receives any federal dollars. The emergency rule filed last week became effective immediately. Additionally, an identical, permanent rule was also filed and will be taken up by the Joint Committee on Administrative Rules (JCAR) in the coming months.
Upcoming Events in the 32nd District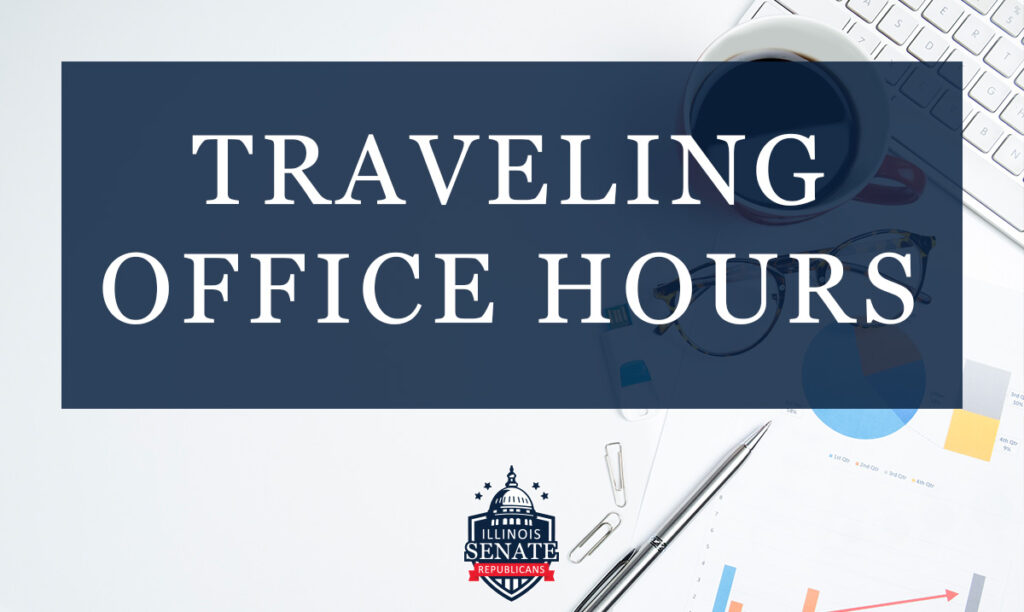 My summer/fall outreach events offer something for everyone. Please mark your calendars for these upcoming events:
Summer Reading Program: Ongoing through August 2, click here for more information.


June 30, Traveling Office Hours: 10:00 AM-1:00 PM at the Cary Library, 1606 Three Oaks Rd, Cary


July 17, Retail Roundtable: 5:00 PM-6:30 PM, location TBD (if you own a retail business in McHenry or Lake Counties and would like to attend, please contact Ryan at rschwartz@sgop.ilga.gov).


August 16, Unclaimed Property Day: 2:30 PM-4:30 PM, Fox Lake Public Library, 255 E. Grand Ave., Fox Lake


September 19, Virtual FAFSA Information Meeting: 6:00 PM-7:00 PM, online, details coming soon


October 17, Senior Fair: 10:00 AM-12:00 Noon, Grand Oaks Recreation Center, 1401 IL-176, Crystal Lake
Illinois' Preliminary May Unemployment Data Released
The U.S. Bureau of Labor Statistics has released the preliminary unemployment data from May, showing Illinois as having one of the highest state unemployment rates across the country. While there is no clear trend so far in 2023, the state measured a 4.1 percent unemployment rate.
Illinois' rate falls on the higher end of the national unemployment rate spectrum, where the national average is 3.7 percent. Individual states range from 1.9 percent to 5.4 percent. Illinois is tied for fourth place with Texas and Washington.
Some Illinois Residents Under 'No Burn' Orders
While our area received some much-needed rain yesterday and into today, that is not the case for many parts of Illinois. The National Weather Service has issued an alert to tell Illinois residents that with the recent dry weather, the risk of widespread fires has also risen. As such, extra care is needed when it comes to fires, and several fire agencies around Illinois have announced "no burn" orders until further notice.
While these notices are mostly in Northern Illinois, all residents are advised to take caution when it comes to fires. According to fire departments, a "no burn" order includes open burnings, only excluding grills and small fire pits. Additionally, oftentimes cigarette smokers are also told to be cautious when it comes to disposing of their cigarettes and to remain vigilant about any sparks or ashes left unintentionally unattended.
IDNR Releases Duck Blind Drawing Dates
The Illinois Department of Natural Resources (IDNR) has officially announced the dates and locations of the upcoming waterfowl hunting blind drawings. These drawings take place throughout Illinois from July 16 to Aug. 5. Hunters must register in person and be at that location when the drawing is held.
To participate in the drawing, all applicants must have a 2022 or 2023 regular Illinois hunting license and Migratory Waterfowl stamp at the time they register and a valid photo ID. Both licenses and stamps are available at any IDNR license and permit vendor or through the IDNR website. All applicants must be at least 16 years old by the date of the drawing.
The blind drawings will start July 16 and go through Aug. 5, so potential applicants have some time to gather their application materials. Details on the dates and locations also can be found in the IDNR press release and more information and maps of the locations can be found on IDNR's Hunt Planner website.